I started my c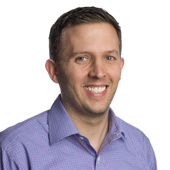 areer as an attorney for large law firm in downtown Chicago right after graduating from law school. My clients were primarily private equity firms who were investing in businesses in various industries. It took only a little over two years for me to realize that, while I found my clients' work to be really interesting, being an attorney wasn't really for me. I "retired" from the profession in 2007, but was fortunate at that time to join a private equity client in a non-legal role, helping them analyze and invest in businesses and manage those investments.  
I spent 2008-10 seeking out companies in which to invest as well as helping our existing companies navigate the credit crisis and resulting economic downturn. During that time I got know and work with many different business owners and operators, some of whom were preparing for retirement and selling the only business they'd ever known and others who were just trying to navigate the most challenging economic environment that they had ever encountered. Those interactions taught me a lot about both the joys and challenges of entrepreneurship and what it takes to confront true adversity in a business. And it left me just crazy enough to seek out a more entrepreneurial challenge myself.  
In 2010 I left the private equity firm to help an extended family member with his business. He had started the business from scratch 15 years earlier with a small investment from two partners. While these two partners weren't involved in the management of the business, they did own another, larger company that provided financing and other services to my family member's business (accounting, warehousing, etc.). His two partners had reached retirement age and were seeking a buyout. Additionally, the business (like many businesses at that time), had two tough years in 2008-09 – the only two years in its 15 year history it had not been profitable.  
I helped him raise money to buy these partners out, provide ongoing financing to the business, and set up the infrastructure that had previously been provided by his partner's business. I think we were turned down by 10 or more different banks when we sought the financing we needed. But, through sheer determination and some relationships I had, we were able to get the financing we needed to complete the buyout and position the company for growth. Since then the company has grown by nearly 300% and was named to the 2014 Inc. 5000 list of the 5000 fastest growing privately held companies in the U.S.  
Since then, I've started Turning Point Capital in an effort to use some of my experience and relationships to help other businesses and entrepreneurs. Turning Point is focused on helping business owners and real estate developers, investors and entrepreneurs secure financing to grow their business. We find we are often able to help, and add the most value, when traditional banks are not an option because funding is needed quickly or the opportunity just doesn't fit a traditional bank's credit criteria. We also pride ourselves in helping our clients with financial planning and understanding their funding needs so they can be prepared for the inevitable bumps in the road that always seem to come.  
If you're a business owner or real estate entrepreneur who needs financing or just want to better understand the financing options available to you, we'd love to hear from you.  We're based in Downers Grove and you can find us at
www.turningpointcap.com
. We can be reached via phone at (888) 510-0368, or you can e-mail me personally at gla@turningpointcap.com.