Image: Anterovium - Adobestock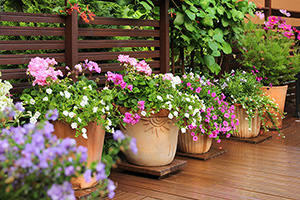 Container plants are a great way to add instant curb appeal to your home and brighten up a dreary front porch with color. Since many porches are shaded areas that get limited sun, choose flowers, herbs, and greenery that thrive in the shade.

Coleus: Treasured for its beautiful, multicolored foliage, coleus is available in over 600 varieties with leaves ranging in colors including green and white and pink and purple. Easy to grow, coleus is a compact plant that will be right at home in a container on a shady front porch. It can also be easily propagated by rooting stem cuttings.

Impatiens: These flowers are one of the most popular container plants because of their vibrant, profuse blooms. Impatiens come in many colors including white, purple, pink, coral, and red. They do well in full shade and partial sun. To keep them healthy and blooming, plant in well-drained potting mix and water regularly.

Pansy: A gardener's favorite, this flower grows well in sunny or shady conditions. Pansies come in solid and variegated shades of blue, purple, yellow, pink, and one unusual nearly black variety. Make sure to plant in well-drained soil and let them dry out before watering—they don't do well with wet feet.

Begonia: Another favorite with lots of variety, begonias are great for hanging baskets, containers, and even do well as indoor house plants. Begonias are prized for their beautiful flowers and showy leaves. Easy to grow, they come in varieties for all lighting conditions. To keep begonias blooming continuously, fertilize with a liquid fertilizer once a month.

Nothing is quite as welcoming as beautiful flowers and showy foliage. By choosing a few shade-loving container plants, you can transform your front porch into a colorful, inviting space.