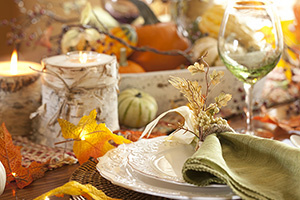 Hosting the family meal for Thanksgiving this year? Bring your home to life with these easy, nature-inspired decor tips that will create a warm and festive atmosphere along with the food.

Nature-Inspired Decor
The bounty we find outdoors should be on display to inspire a grateful attitude for the simple joys of life. Get the children involved in gathering and decorating with nature to round out the tradition. Use colorful leaves as place cards and use a paint pen to inscribe names. Paint acorns with acrylic craft paint and place them in tall glass vases complete with a candle nestled on top. Acorns can also be painted gold to create an elegant setting. Nuts, popcorn, and dried beans make great natural materials as a base in glass vases, which can hold candles, bare branches, or dried flower and grass arrangements. Natural materials blend well with most color palettes and go the extra mile by providing texture. Plus, they're inexpensive.

Formal and Festive
If you don't own a set of fine china, here's one little trick to make your table look formal and festive: Stack the plates. Find an inexpensive set of white dinner plates and top them with salad plates in a rich color or with an embellished edging. Add linen napkins and a row of pillar candles in different heights in a monochromatic color scheme.

Decor to Dazzle Your Guests
A combination of natural decor elements can make a big statement. Choose plants, flowers, and fruit you can mix and match. Fresh or dried hydrangeas, plums, blushing artichokes, green and white pumpkins, and gourds make beautiful autumn arrangements. Or, make a "Thankful Tree" with a large tree branch anchored in a vase or pail. Use a red twig dogwood, twisted willow, or Harry Lauder's Walking Stick branches, then decorate the branches with photos of loved ones or handwritten paper with grateful sentiments. Guests can add their own photos or statements if they wish.