Image: jimkruger / iStock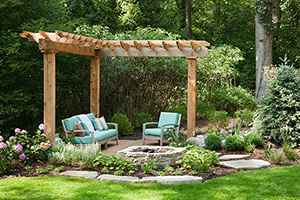 The backyard isn't at the top of most homeowner's home-design plans, which may be a good thing. Because when it comes to designing outdoor living space, you'll want to have a well-developed decor style that fits your personality. Here are design elements that appeal to six different personalities:

The Traditionalist: Classic Comfort
What is the primary purpose of a patio? A place for sitting and relaxing. Attractive, sturdy pavers in appealing patterns provide easy walking and an artistic base for conversation nooks of tables, chairs, planters, and picnic tables.

The Bohemian: Fire Pit
Fire pits create a cozy outdoor atmosphere, especially as we move into late summer and early fall. Consider wood fires to keep mosquitoes at bay—everyone appreciates freedom from bugs!

The Modernist: Multiple Levels
Homeowners seeking a modern look can consider a range of options for walkways and pavers that might include steps and slopes to wind through a terraced garden.

The Eclectic: Water Features
They're not just for swimming. Homeowners can show off an eclectic backyard style with a fountain, fishpond, or other water feature that makes a splash.

The Rustic: Outdoor Eating
Bring cooking outside to a new level, with advanced outdoor kitchen units that allow guests to assist in meal preparation or simply chat with the host chef while enjoying the setting.

The Industrial: Unique Lighting
Want to make a statement and set a mood in an outdoor setting? Get creative with light by including hardscape lighting and illuminated planters, or short-term elements such as lighting fixtures that highlight cool metals and metallics for a more urban, industrial vibe.

Visit www.Belgard.com for more ideas on optimizing your outdoor living environment.