Image: Bnenin / Adobestock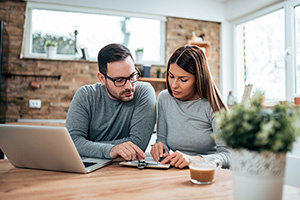 Applying for a mortgage may not be as fun as looking through listings to find your dream home, but getting your financing approved is the first step in the house-hunting process. It's important to do more than just get an online quote from a mortgage lender. You should enter the house-hunting process with a preapproval letter in hand. Here's why:

You'll Know Your Price Range
Finding out the cost of a house you can afford will save you from shopping for homes that are outside your budget, and you'll also know what loans you qualify for. There are zero down payment loans available through the VA or other low down payment options available through the USDA if you qualify. Keep in mind that a loan with a smaller down payment usually means a higher interest rate and a higher monthly payment.

Serious Buyers Are in a Stronger Position to Negotiate
Having a mortgage preapproval confirms you are a serious buyer. When you negotiate with a seller, the discussions will be more productive when they know you are serious about buying. Sellers might also be more open to consider lowering their price or making other concessions to close a sale.

Start Now to Get the Paperwork Out of the Way
Applying for a mortgage takes a lot of paperwork. You'll need to collect your W-2s and tax returns and bank statements and pay stubs. Getting all your paperwork ready will speed up the home-buying process. The sooner you get your paperwork together, the quicker you'll be able to move to closing when you find your dream home.

Know How Much You Need to Pay at Closing
When you decide on a home to buy, you need to do more than just make the down payment. You also need to write a check for the closing costs, which can include origination fees, appraisal fees, and title fees. While the seller will usually pay a part of the closing costs, you'll pay a large share, typically about 2%– 5% of the mortgage amount. If you talk to a mortgage lender, you'll know how much your loan is likely to be and what kind of closing costs you need to be ready for.

Take Advantage of Low Interest Rates
Mortgage rates are historically low, which means your monthly payments will be less than what they would have been just a few months ago. If you're concerned that loan shopping negatively affects your credit score since it results in a credit inquiry, know that the damage is minimal―possibly 5 points. Applying to multiple lenders within a 45-day window is counted as a single inquiry on your credit report.

If you're ready to get preapproved for a home loan, contact me today.