Jonny Forsey / Adobestock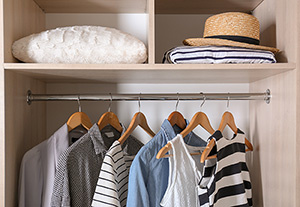 A few little tweaks can put your closet on the road to better organization. Instead of spending lots of money on closet organizers, invest in a few functional storage components and a lot of improved habits.

Declutter before you organize.
You can't really organize your closet until you've shed some clutter. Go through your items and discard or donate as much as possible. Ask a good friend for help to make this daunting task easier (and maybe even fun).

Keep your favorites in front.
Rather than storing all shirts together, all pants together, etc., think in terms of outfits and favorites. Keeping your most-loved clothing in front makes it easier to dress and has the added benefit of showing what you least like―so you can reduce clutter even more.

Maximize horizontal and vertical space.
Use slim hangers, and store unused hangers elsewhere. Create two levels of closet rods for pants, skirts, shirts, and blouses. Remember that a nice footstool can add eight inches to your own height and be easily tucked away when not in use. Back-of-the door hangers are a must, and hooks are great for stowing purses and hats.

Skip the closet altogether.
Store shoes and off-season clothing in little-used spaces in your home―under the bed, for instance—using low-profile plastic containers. Or go decorative and bring in pretty baskets and containers that add visual appeal and hidden functionality.

Corral odds and ends.
Jewelry, belts, scarves, and ties all take up coveted space in drawers and closets. Use specially designed hangers for belts and ties, dedicate a particular drawer for rolled-up items, or get creative and display your accessories right out in the open.

Don't neglect the top shelf.
People tend to tuck things on the top shelf thinking they'll need them someday. Eventually you'll be wedging bits and pieces all the way to the ceiling. Organize your top shelves once a year and let go of items you no longer need.