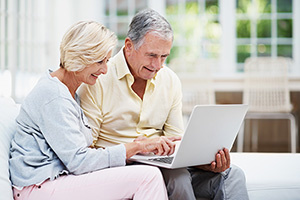 Real estate has traditionally been a face-to-face business. Agents present listings to potential sellers in person and homebuyers attend open houses and guided home tours and sit down with mortgage officers and title company representatives. Now social distancing measures have changed everything.

Fortunately, the real estate industry has long embraced technologies that make it possible to close a home sale without in-person interaction. For example, foreign buyers of U.S. homes can buy property without ever stepping foot in the country. Now these same tools that make long-distance buying possible are being used by people domestically. Here are four tech tools for social distancing homebuyers:

Virtual Open Houses and Tours
Anyone with a smartphone and internet connection can do an online home tour. Some online platforms allow live video presentations with multiple viewers, which means an owner or agent can host a virtual "open house." Home tours with individual buyers are even simpler, requiring only a video call with apps such as FaceTime or Skype. Buyers can interact one-on-one with agents or owners as they are virtually walked through the property.

Online Mortgage Applications
The mortgage industry is a business that was already moving toward an online model before social distancing went into effect, but now it's ready to do more. In some cases, applying online for a mortgage can mean less digging up documents yourself, as some lenders―with your permission―can look up necessary information. If you do want to talk to someone in person, loan officers should be able to arrange a video call to answer your questions or walk you through the application process.

Online Signing and Notary Services
Notarization plays a big role in real estate transactions by confirming the identity of those signing legal documents. Online notarization services were available in some states before social distancing, but state governments have taken action to make remote notarization legal in all states. For documents that don't require a notary, such as listing agreements and offers, there are online platforms that provide secure signature services. Real estate professionals have used electronic document signing for years, so there is already familiarity within the industry.

Virtual Closings
Since online document signing and notarization are possible, the parties involved won't necessarily need to meet in person at closing. A title company will send documents for both parties to sign either electronically or via regular mail. The company would then use electronic document signing or, for physical signings, online notarization. If all parties must be present at closing, there is video conferencing software, and a title company representative can explain, in real time, what you're signing.

Social distancing may have changed real estate transactions, but it shouldn't halt sales. Homebuyers can take comfort in knowing that technology provides tools for just about every step of the buying process.