Photo: © Jacob Lund - Shutterstock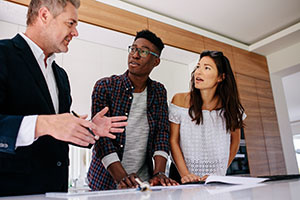 Buying a new home is exciting, but many buyers also find it overwhelming. There are a lot of myths about buying a home that first-time buyers need to be aware of. Here are three of the most common home-buying myths:

Myth: You Need a 20 Percent Down Payment
Many potential home buyers cite saving for the down payment as one of their biggest challenges. Thankfully, it's not true that you must always pay a 20 percent down payment up front. With an FHA loan, the minimum down payment is 3.5 percent, provided your credit score is at least 580. You will need to pay for mortgage insurance if your down payment is less than 20 percent, but you may still be able to buy a home.

Myth: You Need a Perfect Credit Score
Your credit score is an important factor in getting approved for a mortgage, but you don't need a perfect score to qualify. It might be possible to apply for an FHA mortgage loan with a credit score as low as 500, although you will need to make a down payment of 10 percent.

Myth: A 30-Year Mortgage Is Best
While many first-time home buyers believe that a 30-year mortgage is the best option, this isn't always the case. You can save money on interest with a 15- or 20-year mortgage. The monthly payments will be higher; however, the savings on interest will be significant. Your mortgage lender can help you determine which type of home loan is best for your needs.