Image: Steve Cukrov / AdobesStock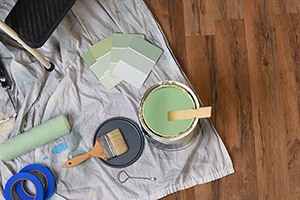 Learning a few tricks of the trade that painters use will assist you in your endeavor toward beautiful walls. Before choosing your paint, figure out how much you need—one gallon of paint covers approximately 350 square feet.

Common Paint Finishes and Primer
Flat paint. This opaque and sophisticated finish doesn't reflect light. However, it's non-washable, so use it on low-touch surfaces like ceilings or bedrooms.
Eggshell and satin paints. These have a low-luster finish but aren't durable enough for areas like kitchens and bathrooms. Use them in lower traffic areas, like a bedroom.
Semigloss and high-gloss paints. With a durable, shiny finish that's easy to clean, these are suitable for kids' rooms, kitchens, bathrooms, baseboards, and doors. Note: High shine means imperfections on the walls will be more noticeable.
Primer. Use on walls or other surfaces that have never been painted, like dry wall or unpainted wood. You don't need to use primer on white, clean walls or when painting dark colors on light walls, but it's essential when painting a light color over a dark wall. Cover stains such as grease spots or crayon markings with primer, or prime the whole wall.
Painting Techniques
Before painting, shake the can by rocking it in all 
 directions, then stir thoroughly with a paint stick.

The recommended order to paint a room is ceilings 
 first, then trim, then baseboards, and finally, walls. 
 The first coat of paint should be completely dry before 
 applying a second coat.

Use painter's tape to make clean lines along 
 baseboards, moldings, and window casings. Use your 
 thumbnail or a credit card to apply tape. Press firmly 
 and don't remove the tape until the paint is completely 
 dry, then peel off slowly.

Climbing a ladder with a large amount of paint isn't a 
 good idea; pour paint into a smaller container when 
 you need to paint trim near the ceiling.

Angled brushes and small rollers are special tools that 
 will help you paint up to edges and along ceilings.
Cleanup
Before paint begins to dry on your brushes, soak them in soapy water, then wash until the water runs clear. Dab with paper towels and let dry. Trash used rollers—it may seem wasteful, but washing them for reuse wastes a lot of time and water. Store paint for touch-ups in a clearly labeled small jar with a tight-fitting lid. To store the rest of the unused paint, pound the top of the paint can shut with a mallet or hammer to make sure it's well sealed.