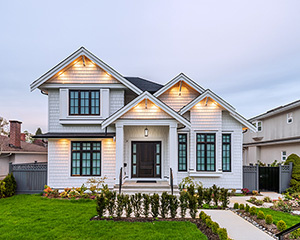 Spring is the time to refresh your house and yard with a deep cleaning and an exterior makeover. If you can't manage this job yourself, then it's worth hiring a professional service to do it for you.

Make the Exterior Sparkle
It's essential for buyers to have a good first impression. Put in the effort to power-wash siding and walkways so that they are squeaky clean.

Clean the Windows
Give all windows a good washing, both inside and outside—and be sure to include skylights in the ceilings and sidelights in the doors.

Look Up and Clean Up
Part of the exterior tidying should include the gutters and eaves troughs. Clean out all debris and wash them thoroughly.

Paint Anything That Needs It
Make sure to include repainting or staining decks and porches. Paint the front door an attractive color—not gaudy, but not too bland either.

Create More Curb Appeal
A freshly mowed lawn and trimmed bushes make a property look finished and clean.

Touch Up the Garden
Planting colorful flowers in existing beds will brighten the garden. Pulling weeds and putting down fresh mulch also gives the property a finished look.

Light Up the Night
You can place solar lighting along pathways and keep outside lights on in the evening in case potential buyers drive past.

Dress Up the Outside
Use mats, potted plants, furniture, a hammock, or a swing to decorate entryways, porches, and patios. It gives the home a relaxed appearance and shows off its potential.

Check All Locks and Doorbells
Even though many buyers will change the locks, making sure everything works gives the impression that a home is well maintained.