Image: valentinrussanov - iStock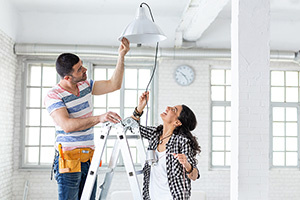 These five home-improvement projects are great for a weekend DIY enthusiast and easy enough for an amateur. They also require time dedication, which is perfect if you're going stir-crazy at home and looking for ways to be productive.

Paint Cabinets: Painting existing cabinets rather than replacing them saves thousands of dollars. The key to doing it yourself is preparation. Doors, hardware, and drawers should be removed and labeled with tape so you remember how they go back together. Cabinets should be cleaned with a degreaser, lightly sanded, wiped with a tack cloth, then primed and painted with a brush and small roller. It's slow work, but worth the savings.

Install Lux-Look Flooring: The emergence of luxury vinyl tile (LVT) makes it easy for homeowners to spruce up their floors without breaking the bank or hiring an installer―if you're a little handy. It comes in many styles that mimic hardwood, tile, and even natural stone. As a floating floor, it snaps together without having to be nailed or glued down and can be installed on top of existing hard-surface floors. You'll need a tape measure, miter saw, and rubber mallets. There's a lot of measuring and cutting, but it's a fairly easy job.

Brighten Ceilings: Over time, white ceilings become dingy. A fresh coat of paint makes for a much cleaner look. But it's not a fast job; painting a ceiling requires moving a ladder often. If you have a two-story great room or foyer, it will likely involve putting together and moving scaffolding. But if you have time on your hands, it's a great home improvement.

Refinish a Deck: Maintaining a wood deck takes time and effort. Before applying a new coating of stain, the deck must be thoroughly cleaned―either with a stiff-bristle brush or pressure washer―and dried completely. Some stains can be applied with a roller, which saves more time than using a brush, but if you have railings and spindles, staining an entire deck will take a while.

Update Lighting: Changing one light fixture doesn't take long, but doing a whole house is time-consuming. Replacing eyesores with modern fixtures may take several trips back and forth to your electrical panel to shut off the power breaker by breaker. Replacing incandescent lights with LED fixtures also helps save money on bulbs and energy bills.