Photo: © Susan Schmitz - Shutterstock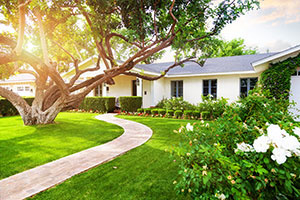 So you think you've found the perfect house. It has everything that you need and more, including that incredible walk-in closet that you've been dreaming about for years. However, don't be so quick to make an offer. When you buy a house, you're also buying a neighborhood. Here are four important questions you should ask before you submit an offer:

1. Does the Neighborhood Fit Your Lifestyle? If you tend to go out at night and enjoy the nightlife, then living in a downtown area would be more ideal than living in the suburbs. If you have children or are planning on having children, you should look into the school district to make sure your kids will have access to good schools. Last but not least, you should check the crime rates in the area to make sure the neighborhood is safe.

2. Is the Location Convenient? Consider your daily commute. Is there accessible public transportation? Spending several hours getting to work each day leaves you with less time to enjoy your new home. How close are the nearest amenities, such as banks, grocery stores, and gas stations? A lack of convenience can reduce your quality of life, so think carefully about how convenient the location of the home is for you.

3. How Will the Neighborhood Change in the Future? Don't just judge the neighborhood based on its present state. Consider any changes that are planned for the future. For example, if the city is planning on building or expanding a street right across from the house you are looking at, you may want to reconsider. High-traffic areas are noisy and much less safe for kids—these negatives also usually decrease the property's value. Look for other planned construction that will directly affect your neighborhood, such as the construction of shopping centers or apartment buildings.

4. What about Neighborhood Regulations? Some neighborhoods have homeowners associations to maintain the neighborhood and prevent neighbors from affecting everyone else's quality of life or home values from dropping. The rules often include things like what color you can paint your house and what types of additions you can make to your home. So be aware of any regulations before you buy.

If you're ready to buy a house, consult a real estate agent to help you find a house in the neighborhood that will work best for your lifestyle.