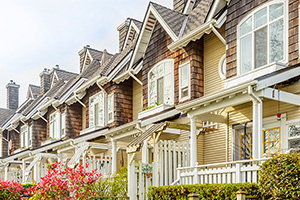 A homeowner's association (HOA) is a private organization that oversees a group of homes in a community, common in condominiums, town houses, and master-planned subdivisions. The HOA is managed by a board of directors elected by the community's residents, and anyone who buys a home in an HOA neighborhood is required to become a member and abide by the organization's rules. Here's what an HOA does for you:

Protects Home Values
HOAs enforce specific rules designed to maintain uniformity and uphold neighborhood appearances. For example, some HOAs prohibit residents from parking broken-down vehicles on front lawns, letting their grass grow too tall, or building unsightly attractions. An HOA may also enforce noise restrictions and curfews. Well-maintained and safe neighborhoods are more likely to draw in potential buyers.

Provides a Sense of Community
Forming an HOA fosters a greater sense of community among the residents. Neighbors have the opportunity to meet one another when using their shared amenities, attending HOA meetings, or participating in organized social events such as block parties.

Maintains Common Areas and Funds Amenities
The homeowner's association is responsible for maintaining the neighborhood's common landscaping areas, which sometimes means planting trees and mowing the lawn in front of each home. Many HOAs also feature perks like community swimming pools, playgrounds, or tennis courts, all maintained and funded by the HOA.

Enforces Rules and Restrictions
With some stricter HOAs, you may need approval to make changes to your home's exterior—even minor ones such as what color you can paint your door or how high a fence can be. There may also be restrictions on renting out your home or a limit on how many people can live there. Violating HOA rules could result in hefty fines.

Determines Costs of Benefits
Living in a community with an HOA has advantages, but you will need to pay HOA fees on a monthly or yearly basis. Generally, the more special features the neighborhood has, the higher the HOA costs will be.

Living in a community with an HOA can be a great option for homeowners. However, it's not the right choice for everyone. Consider the benefits and drawbacks of an HOA as you look for your new home.