Photo: © Tamas / Adobestock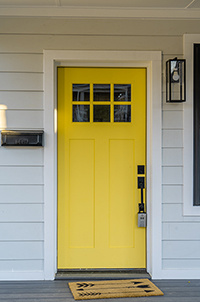 Your home's first impression to the world is its front door. Get creative by adding a little personality to your front door with a colorful splash of paint. But how to choose the perfect color? Look at this descriptive list for paint color inspiration:

Bold Brick Red is a color choice that makes a strong first impression. A brick red front door is both modern and stylish, while also being reminiscent of vintage color schemes used on homes of the past. It looks great on homes with exteriors that are painted in neutral shades.

Bright, Happy Yellow is a color that brings the beauty of all four seasons right to your front door. Brightly colored daffodils are a signature spring flower; radiant rays of sunshine are a reminder of happy summer days; golden changing leaves are the first sign of fall; and the warm glow of soft, yellow light is the coziness that everyone loves about winter—minus the cold, of course!

Teal Is Unusual as a color for a front door. It will add that interesting twist to make passersby want to look twice. It's a color choice that most homeowners won't brave, so your house is likely to have the only teal door on your street. A brick home or a home with a brown-colored exterior will provide the contrast to make a teal front door really pop.

Rich Navy Blue is a color that can make your front door go from humdrum to fabulous. Navy blue works well with light colored exteriors and homes that get plenty of sunlight. However, if your front door is set inside a portico or a porch, the navy blue might lose some of its luster and look dark.

Which color represents your family's personality? Try some of these colors listed in this article to find the perfect fit. If you dislike your choice, it's easy to re-paint.