Image: Trinette Reed/Stocksy / Adobestock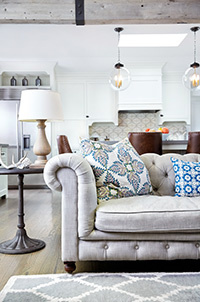 Investing in some high-quality decorative pieces will add that atmosphere of polished flair to your home that everyone wants. Here are some splurge-worthy home decor ideas that make up for the extra expense with style points:

Invest In a High-End Piece
A single classy piece brings a room up a notch instantly―even if it costs as much as all the room furnishings and accessories combined. It's worth splurging on quality furniture, rugs, light fixtures, and artwork. Choose something that's meaningful to you and that you'll enjoy seeing every day for years to come.

Add Gorgeous Lighting
Updating a light fixture in a living room or dining room is the equivalent of updating the appliances in the kitchen. New light fixtures not only improve the appearance of a home but can also increase safety and energy efficiency. Consider whether it makes sense to install a single statement light fixture or layer multiple types of lighting. For example, pendant lighting and recessed lighting in a kitchen work beautifully. If you aren't sure how to start shopping for lighting, gather inspiration online and consult with a lighting specialist at a hardware or home improvement store.

Go Big with an Area Rug
You don't have to recarpet the entire room to provide a new look for your home. Laying down an 8-by-12 area rug with a modern or traditional pattern can alter the entire space. Similarly, smaller area rugs can be used as accents to your flooring by adding color and texture to wood floors or stone tile. Natural plant fibers like sisal and jute can give your rooms a more open, casual feel that is particularly pleasant for warm weather months and in a room that offers a good view of the outdoors.